Mount Isa to Tennant Creek Railway Project
The Mount Isa to Tennant Creek Railway Project aims to link the existing Tarcoola to Darwin railway with the Great Northern Line operating from Mount Isa to Townsville.
The Northern Territory (NT) Government considers a rail link connecting the NT to north-western Queensland as critical for regional and national economic development and the creation of regional employment opportunities.
The project will provide rail connectivity through the Darwin to Townsville economic corridor and support the development of phosphate, agriculture, gas / liquids and other mineral exports along the rail corridor.
Prefeasibility studies
The NT, Queensland and Australian governments have commissioned preliminary investigations to understand the economic, commercial, technical, environmental and engineering requirements that may need to be addressed as part of any future development of the railway as part of the Darwin to Townsville transport corridor.
The studies comprise the Strategic Options Paper and the Technical Assessment Program and are available on the Australian Government's Department of Infrastructure, Regional Development and Cities website.
Status
Current work to support the project is focused on developing a more comprehensive understanding of the economic potential of the Barkly region through early-stage resources studies.
This includes:
Pre-competitive geoscience information being collected by the Australian and Northern Territory governments under the AU$100 million Exploring for the Future program. For further information go to the Australian Government's Exploring for the Future website.
Assessments of land capability, water availability and biodiversity assets by the NT Government to support land planning, reduce investment decision risk and encourage private sector investment. Land and capability studies are in various stages of development for the Barkly Tableland (Frewena), Tennant Creek West, Dunmarra, North Barkly and Western Davenport areas. For further information go to the Department of Environment and Natural Resources website.
The release of new geoscience and land capability information should generate new exploration and resource discoveries and unlock new investment opportunities in the region that could underpin future demand for the railway.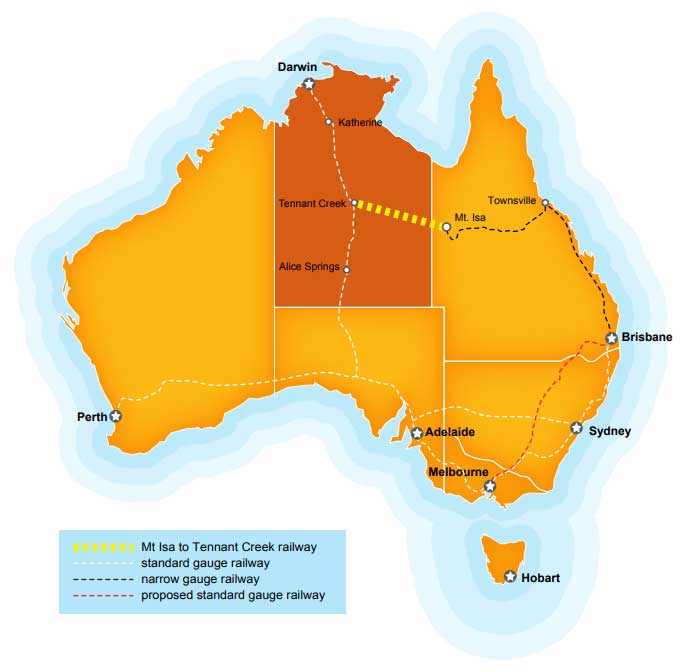 Contact
Email raillink@nt.gov.au for general enquiries.
---
Last updated: 14 December 2020
Give feedback about this page.
Share this page:
URL copied!