Top End
The Top End Regional Economic Growth Committee (REGC) is an independent advisory committee for the Top End, providing a direct voice to government to ensure the region's economic challenges and opportunities are considered in relevant strategic regional planning.
Comprising representatives and leaders from Aboriginal corporations, land councils and businesses from across the region, the Top End REGC offers a unique and diverse lens on what's required to support economic growth, and is committed to providing strong advocacy to support the needs of the region.
The current membership of the Top End REGC includes:
Murin Association Incorporated
SeaLink
Gundjeihmi Aboriginal Corporation
Yagbani Aboriginal Corporation
Green River Aboriginal Corporation
West Daly Regional Council
Thamarrurr Development Corporation
Nguiu Ullintjinni Association Incorporated
Tiwi Partners
Tiwi Islands Land Council
Northern Land Council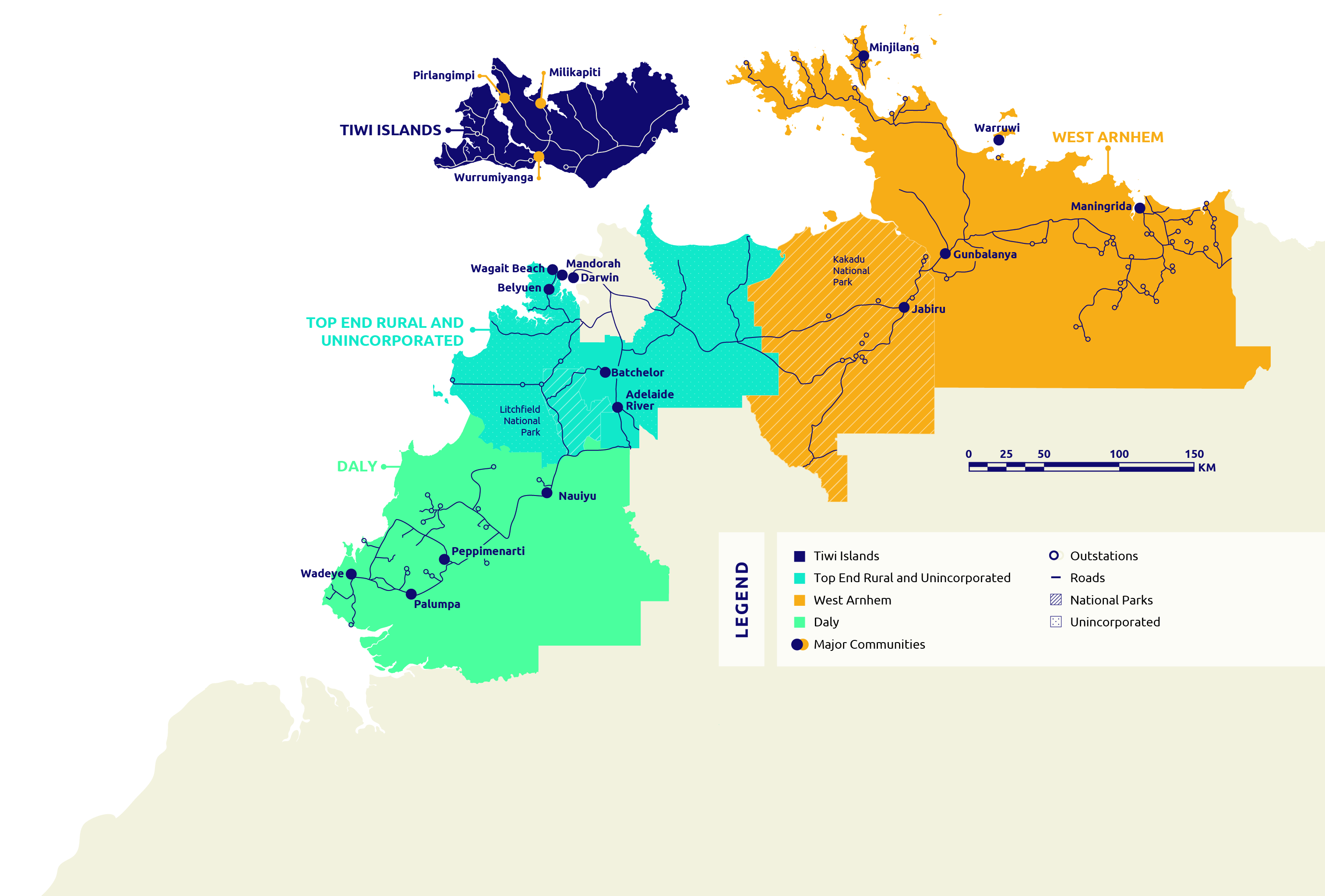 Top End Economic Growth Plan
The Top End Regional Economic Growth Plan provides a guiding framework that will foster economic opportunity and enhance the liveability of our communities by focusing on growth sectors that provide the greatest opportunity for sustainable economic growth.
The plan will play an important role in:
promoting the region
enhancing understanding of the region's population and economic makeup
identifying the region's competitive advantages
identifying key infrastructure to enable economic development and enhance the region's liveability
identifying shared challenges and barriers to economic growth
identifying and realising economic growth opportunities.
The plan identifies economic opportunities across agribusiness, tourism, resources and energy transition that will assist to grow the regional economy and increase job opportunities for local residents. These include:
Energy Transition - Large scale hydrogen production and export (Provaris Energy - Tiwi Islands);
Agribusiness - revitalise pastoral operations at Palumpa Station (West Daly), commercialise successful Black Lip oyster trials (Warruwi West Arnhem), expand live Buffalo export industry (West Arnhem);
Native bush foods - expand and grow Kakadu Plum industry (West Daly and West Arnhem);
Mine Rehabilitation - leverage economic opportunities associated to long term investments rehabilitating Ranger Uranium Mine (Jabiru) and Rum Jungle Uranium mine (Rum Jungle);
Resources - abundance of unique minerals and proximity to markets (Finniss Lithium and Mount Bundy Gold projects); and
Tourism - multiple opportunities to leverage Aboriginal culture and the regions pristine natural environment to create sustainable tourism enterprises (region wide).
The Top End REGC will review the plan annually to ensure the vision, infrastructure and growth opportunities are contemporary and relevant.
View the Top End Regional Economic Growth Plan PDF (2.0 MB).
Top End Region
The Top End region encompasses the northernmost section of the Territory, an area of 112,295 square km including Daly, West Arnhem, the Tiwi Islands and Top End Rural and Unincorporated. Uniquely the region has a significant portion of land surrounding Darwin and Palmerston cities, classified as unincorporated land (this is land not governed by a local government).
The region extends from Wadeye in the west to Maningrida in the east, and includes the historic mining town of Jabiru inside Kakadu National Park.
Of the 17,900 people living across the region. Approximately 68% of residents are Aboriginal with a large proportion of young people - 39% are aged 24 or younger; only 7% are aged 65 or older.
With almost three-quarters of residents identifying as Aboriginal people, and with the majority of land across the region classified as Aboriginal land, traditional Aboriginal landowners play a critical role in the development of the region and its industries, infrastructure and services.
Because of its unique geography and diverse population, the region is divided into four sub-regions. These include:

Daly
Tiwi Islands
West Arnhem
Top End rural and unincorporated
Top End Region Economic Data
$2.59 billion – Gross Regional Product
69% - Working age population (aged 15-64 years)
35 % - Labour force participation rate
355 – Total number of businesses
5722 – Labour force
---
Last updated: 01 September 2022
Give feedback about this page.
Share this page:
URL copied!