Honours and awards for Territorians
The Australian honours and awards system recognises the exceptional contributors and quiet achievers in our community.
It includes:
The Order of Australia
Australian Bravery Decorations
National Emergency Medal
Meritorious Service Awards.
Honours and awards are a way to say thank you to Australians in every state and territory for their commitment and hard work.
One of the Meritorious Service Awards is the Public Service Medal awarded to Australian public servants for outstanding service. Download and complete a nomination form at Public Service Medal Nomination
The Australian honours and awards system celebrates the remarkable achievements of Territorians and people across the nation.
Download or complete a nomination form on the Governor-General's website.
For a list of all Northern Territory honours and awards recipients, go to the Australian Government's Department of the Prime Minister and Cabinet website.
Honouring Women in the Territory
Queen's Birthday honours 2022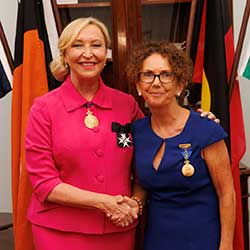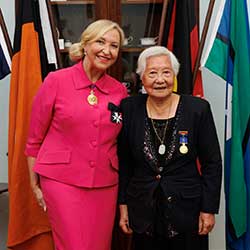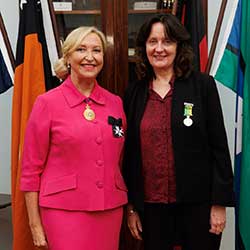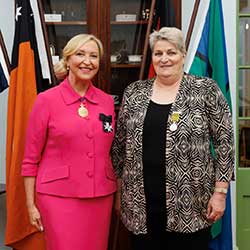 Mrs Annette Susan Roberts AM
Mrs Yu Lan Chin OAM
Ms Kathleen Robinson PSM
Wing Commander Lynette Jayne Horne CSM.
Biographical notes for recipients are available on the Governor-General's website.
Invested by Her Honour The Honourable Vicki O'Halloran AO, Administrator of the Northern Territory
Northern Territory women can be acknowledged for their commitment across professional, public and community ventures in various fields through the Australian honours and awards system.
The Northern Territory has many extraordinary women who enrich our lives and communities, and are leading the way for other women to follow in their footsteps.
The awards and honours highlight Territorian women who work tirelessly to change our communities for the better.
If you know a woman who deserves to be recognised for their outstanding contribution in their community or field nominate them for an Order of Australia. Download or complete a nomination form from the Governor-General's website.
Australian honours and awards are announced several times a year:
Australia Day - 26 January
Queen's Birthday - 8 June
Australian Bravery Decorations - April and August.
|
International Women's Day (IWD) is celebrated annually on March 8 and is a global day celebrating the economic, political and social achievements of women past, present and future.
The day also marks a call to action for accelerating women's equality.
The first IWD was held on 19 March 1911 in Germany, Austria, Denmark and some other European countries. This date was chosen by German women because on that date in 1848 the Prussian King faced an armed uprising; he had promised many reforms, including votes for women.
To ensure you are part of IWD activities check the calendar and register to attend one of the many events being held around the Territory
---
Last updated: 29 July 2022
Give feedback about this page.
Share this page:
URL copied!