The Plan to fix Antisocial Behaviour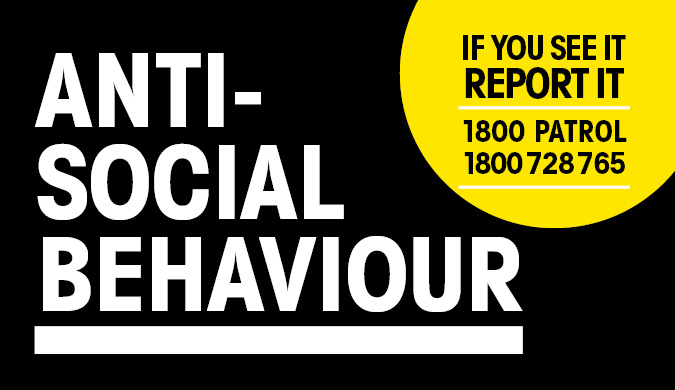 The NT Government is investing in the revitalisation of cities and towns across the Territory to create local jobs and build the population.
Research from the Ipsos Life in Australia 2017 survey indicates that for Territorians, the top five attributes that make somewhere a great place to live are:

Work is underway to create a more vibrant and tropical Darwin, and it is important that issues related to antisocial behaviour are tackled as part of the plan to create a more liveable, walkable city.
Fixing antisocial behaviour – 5-point plan
Antisocial behaviour is unacceptable activity that causes harm to individuals or the community. It also includes fear of crime or concern for public safety, public disorder or public nuisance. Everyone has a right to go about their daily life without putting up with antisocial behaviour.
The Territory Government is working with police, Larrakia Nation and service providers to break the cycle of repeated antisocial behaviour and has announced a 5-point plan to fix the problem. This needs a holistic and strategic response that addresses the many reasons and causes of antisocial behaviour.
1. Making it easier to report
An extensive information campaign is being rolled out with a key focus on letting people know where to report anti-social behaviour. Work is also underway on developing tools to make it easier for people to report when antisocial behaviour is happening. These tools may include an app or SMS-based reporting, to work in conjunction with telephone reporting services.
The response to managing antisocial behaviour will be evidence based and it is important that all incidents are reported to help identify hotspots.
A key aspect of the strategy is the collection of data including:
mapping of hotspots where anti-social behaviour regularly occurs
accurate numbers of people using services and accommodation
which locations people are coming from, and why
The response to this issue may change over time, as the need changes. Ongoing reporting and monitoring will ensure programs are provided where there is a need, and will reduce duplication of services.
Future funding agreements will include a requirement to monitor and report to ensure accurate data is available to ensure appropriate funding and distribution of services.
The Government is also working with the City of Darwin on the Switching on Darwin smart city project to improve our understanding of how people move around the city and how this data can be used to help manage antisocial behaviour.
If you see antisocial behaviour, call police on 1800 PATROL (1800 728 765).
For emergency police, fire or ambulance attendance call 000.
The Larrakia Day Patrol can be contacted on 1800 101 645.

The Larrakia Nation-run Day Patrol service will be increased to five vehicles (up from 1 vehicle) and 10 staff, along with more hours and a bigger coverage area. The Day Patrol will now operate from 5am to 4pm, when the existing Night Patrol service starts (and runs until midnight).
2. Visible policing and safer public places
NT Police are tackling antisocial behaviour through a visible presence and targeted ongoing campaigns to address problem drinking.
This includes foot patrols, segways, a mobile caravan, marked vans and dog patrols.
Police are developing a strategy that works closely with industry, service providers, community associations and NGOs to support harm minimisation. This may include:
more CCTV, working closely with the Switching On Darwin project currently underway in Darwin CBD
better information sharing between service providers, night patrol and the community
3. Four additional Larrakia Day Patrol Vehicles
The Larrakia Nation-run Day Patrol service will be increased to five vehicles and 10 staff, along with more hours and a bigger coverage area. The Day Patrol will now operate from 5am to 4pm, when the existing Night Patrol service starts.
The Day Patrol will cover Darwin city, Darwin northern suburbs and Palmerston, which is an extension of the services provided previously in and around Darwin.
It will support other Larrakia positive reinforcement services, including Night Patrol, Youth Patrol, HEAL, and tenancy support services, with a focus on helping people to return to their home communities where possible, through the Territory Connect (Return to Country) program.
A pilot of the Day Patrol was funded from 1 December 2017 to 30 June 2018, running from 5am to 10am with one patrol vehicle and two staff. Based on the success of this pilot, Larrakia Nation has been funded to provide the Day Patrol for a further 5 year period, until 2023.
From December 2017 to 30 September 2018, 5413 engagements with the Day Patrol have been recorded. This is an average of 17-18 engagements per day.
The Day Patrol has so far:
responded to over 540 calls from the public
transported over 1300 people to safe locations
linked 203 people will Territory Connect (Return to Country)
Connected 374 people with social and health services
On a typical day, the Day Patrol is likely to:
Attend the Darwin watch house, to provide transport and services to aboriginal people being released, by:

Transporting people to a safe location,
Assisting people with referrals to HEAL program,
Assisting people to access the Territory Connect (Return to Country) program

Attend the Sobering Up Shelter (SUS) in Berrimah to provide transport and services to Aboriginal people, once they have spoken to Centrelink, which offers a mobile office at the SUS each day. This is to help people access the Territory Connect (Return to Country) program.
Take calls from Police and Territory Housing to attend public places or public housing locations and transport Aboriginal people to a safe location
Take calls from shopping centres to attend. At the shopping centres the Day Patrol will:

Assess the person to check for injuries
Transport to a fixed address (if available) and check with the occupants that the person can stay there, or
Link the person to HEAL or Return to Country Services
The expanded Patrols will mean these services will also be available in the Northern Suburbs and Palmerston, and will link with the Night Patrol hours, providing coverage throughout each day from 5am until midnight.
The Territory Connect (Return to Country) program is continuing to help people return to their communities. Since December 2017 over 2600 people have returned to their communities, in places such as Maningrida, Groote Eylandt and Port Keats, and many other places in the NT.
4. Extended Sobering Up Shelter hours
To support the extended Larrakia Day Patrol service, the Mission Australia-operated Sobering Up Shelter will extend its operating hours to 24 hours a day, 365 days a year.
This will help to make sure people who need help with alcohol addiction can access the support they need at any time.
5. Programs to get more people back on track
Providing support to people who are sleeping rough - or those at risk of becoming homeless – is important to help reduce antisocial behaviour.
Better Pathway Centres
In collaboration with service providers and community groups, three new Centres will be established in Darwin city (1), the northern suburbs (1) and Palmerston (1) to get people back on track. These Centres will be modelled on the successful Katherine Doorways Hub, providing an innovative and pro-active approach to tackling antisocial behaviour.
Pending Development Consent Authority approval, the first of these new centres, the Better Pathways Centre (BPC) will be located at 56 Woods Street, Darwin at the old Darwin Primary School site. The centre will provide support for vulnerable Territorians living in the Darwin city area who sleep rough.
An alcohol restricted area and operating on weekdays during business hours, the centre will offer amenities such as laundry, toilet and shower facilities as well as meal services. It will also support recreational activities, in-reach services from multiple organisations and case management and referral services.
The BPC will have dedicated staff in roles such as reception, cleaning, and grounds maintenance. The staff will also be assisting clients and ensuring client, staff, visitor and neighbourhood safety. The BPC also directly contributes to the NT Government's strategic objective of 'Increasing community safety and cohesion' and an action from the NT Government's Homelessness Strategy to 'develop and implement a service response to support people sleeping rough'.
Temporary short term accommodation
There is currently not enough temporary short term accommodation in Darwin city, the northern suburbs and Palmerston and work will be undertaken to identify and refurbish three (min) facilities to address this.
The option to pre-pay for short term accommodation is being explored to help people plan their travel to Darwin, book the accommodation and contribute to the cost of the accommodation.
In addition, the Government will provide a subsidy for temporary short term accommodation services to make it more affordable for rough sleepers to access.
We will work with remote communities to communicate what services are available for people planning to visit Darwin, including expected behaviour when in Darwin, planning of trips to urban centres and pre-payment of short term accommodation.
A six-month, $170,000 trial to get vulnerable Territorians sleeping rough in Darwin CBD into short-term transitional accommodation has been funded through the five-point-plan. This will pay for 30 beds at the Galawu Hostel on Finniss Street and will provide immediate relief to homeless Aboriginal men, women and children, including people visiting from remote communities that have no accommodation options. Individuals will only be accommodated by referral, through Larrakia Nation, City of Darwin or Danila Dilba health services.
Part of a bigger plan for real change
This strategy seeks to address the causes of antisocial behaviour, but it will not get rid of all antisocial behaviour problems. Some people will not want accommodation, and may be reluctant to be linked to services, however these programs will provide people with options that, over time, will reduce the number of people sleeping rough in Darwin and Palmerston.
It is important the community is involved in helping to reduce antisocial behaviour. If you see it, report it on 1800 PATROL (1800 728 765).
To bring about real change and improvement, governments, business and the community need to work together. Everyone has a role in reducing the crime, violence and harm associated with the misuse of alcohol in the Territory.
Find out more about the Government's alcohol reforms including the Banned Drinker Register, minimum floor price and other alcohol harm minimisation policies.
Download the Antisocial Behaviour Plan here PDF (87.3 KB)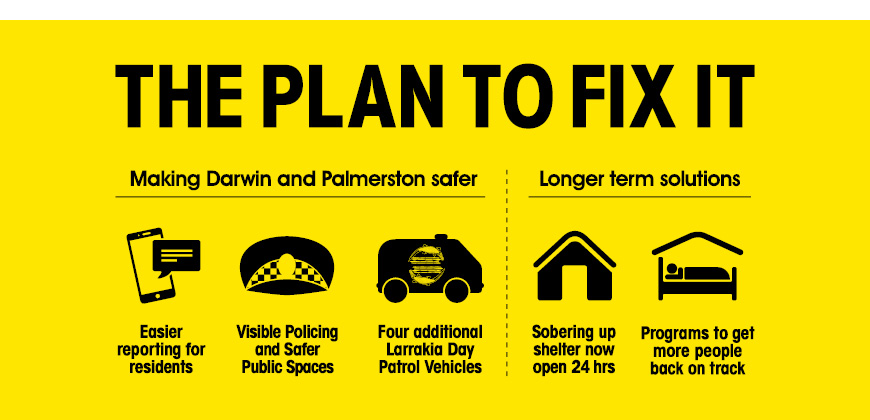 ---
Last updated: 10 September 2019
Give feedback about this page.
Share this page:
URL copied!