Darwin Urban Seniors' Lifestyle Accommodation Project
In 2019 the Northern Territory (NT) Government sought proposals to develop a seniors' lifestyle accommodation village in the Darwin urban area.
This was a one stage competitive process to facilitate private sector development of the project.
The request for detailed proposals process provides a flexible framework to deliver a high quality and commercially sustainable project. Submissions for the one stage competitive process closed on 14 October 2019.
The competitive process is progressing, further updates will be provided as soon as an outcome and decision on the projects next steps has been made.
General enquiries in relation to the project should be emailed to seniorsaccomm@nt.gov.au.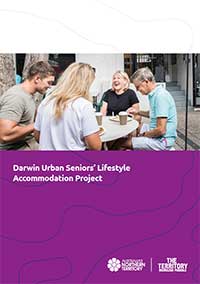 Get the request for detailed proposals brochure:
Darwin Urban Seniors' Lifestyle Accommodation Project: request for detailed proposals PDF (4.3 MB)
Darwin Urban Seniors' Lifestyle Accommodation Project: request for detailed proposals DOCX (389.3 KB)
Last updated: 21 April 2020
Share this page: