Alice Springs Seniors' Lifestyle Accommodation Project
The Northern Territory (NT) Government has commenced a competitive market process to engage a proponent to develop and operate a seniors' lifestyle accommodation (SLA) village in Alice Springs.
The NT Government is undertaking a two-stage competitive market process:
stage 1 - expression of interest: raise awareness of the opportunity and invite submissions from suitably qualified / experienced entities
stage 2 - request for detailed proposals: invite shortlisted proponents to submit binding detailed proposals.
The competitive process provides a flexible framework to deliver a high quality and commercially sustainable project.
The NT Government has identified a site that it is available for the project. Lot 10019 Town of Alice Springs (15 Irrampenye Street) is a 5.58 hectare Crown land site that provides significant development potential for a SLA village.
Expressions of Interest opened on 22 April 2020 and closed on 29 May 2020.
General enquiries in relation to the project should be emailed to seniorsaccomm@nt.gov.au.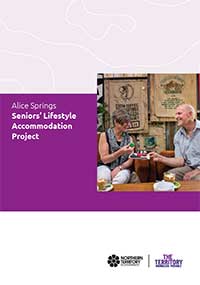 For further information on the expression of interest process, get the brochure.
Alice Springs Seniors' Lifestyle Accommodation Project: expression of interest brochure PDF (8.7 MB)
Alice Springs Seniors' Lifestyle Accommodation Project: expression of interest brochure DOCX (629.3 KB)
Last updated: 10 August 2020
Share this page: